Chinen Sensei has been appointed by Okinawa Prefecture to the 'Okinawa Karate Seminar
Programme Development Committee as part of the 2023 Okinawa Karate School Instructional Planning Project.
The committee consists of eight members, two representatives from each of the branches of traditional Okinawan karate: Shuri-Tomari-Te-Kei, Goju-Ryu, Uechi-Ryu, and Kobudo.
The committee has been tasked to develop a systematic program for a specialized seminar. The purpose of the seminar is to train instructors in the authentic preservation of techniques and traditional teaching methods from Okinawan karate.
Chinen Sensei, who has been teaching abroad for many years, is expected to play an increasingly active role in the future.
….
..
.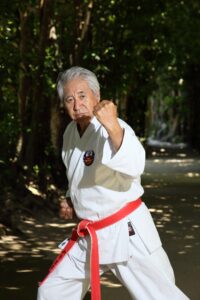 Sensei Chinen