We are pleased to inform you that the World Oshukai America branch(San Francisco) has been opened since April 2022.
Mr. Kim David (1st Dan) will be appointed as the branch manager of the American branch.
Mr. Kim David trained in karate at the Okinawa Dojo of the General Headquarters of the Association for about 3 years, and along with the instructors of this dojo, Mr. Yasuo Yamada (4th dan) and Mr. Kohei Oshiro (4th dan), the advanced technique of Okinawa Shorin-ryu Karate, the philosophy of thought. He sweated to learn.
Even after moving to the United States, he continues to practice karate and maintains a strong relationship with the Okinawa Dojo of the General Headquarters.
With sincerity and passion, we decided to aim for the global development of our association and the spread of traditional Okinawan karate.
We have decided to open an American branch. 2022.04
We would like to thank everyone for their great support and cooperation.
We look forward to working with you in the future.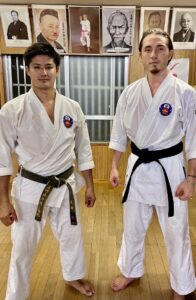 (Photo after the 1st Dan test. Left side: Mr.Kohei Oshiro, Right side: Mr.Kim David)